I recently represented Buyer Clients in their purchase of an old log house homestead.
The property was beautiful, and at one time, this farm was bustling with productivity and family.
In its current state, the home was labelled a tear down, as often these days homes and buildings in need of refurbishment and modernization often are.
These Buyer Clients however saw the hidden potential of the log cabin, and with an extensive background in construction and renovation, neither were intimidated by the road that lie ahead in restoring, rather than destroying, the original log home.
During the time that I worked with these particular buyers, I found myself thinking a lot about how readily we at times have a tendency to affix labels and attributes to old and worn buildings, items and ways, deeming them unfit for our current lifestyle and hence to be discarded.
I am encountering more prospective buyers of late that are leaning more toward breathing new life into old buildings rather than snuffing any potential for restoration out.
And that is something that I can appreciate.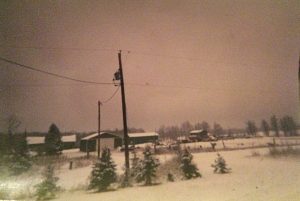 You can visit this families journey in restoring this beautiful old homestead here;