This past Spring, I had the pleasure of listening to a Mom speak at one of our Re/Max meetings in Thunder Bay about how the Children's Miracle Network had impacted her family's life in a tremendous way.  As I listened to her story, I felt the impact that I personally could make in conjunction with the many other Re/Max Agents that contribute to The Children's Miracle Network across Canada and the US through our Re/Max Miracle Home Program.  I made a mental note to become involved, and then Spring turned into Spring Market, and things got busy.
In the Fall, Fellow Re/Max Realtor Bruce Johnson and his Daughter Holly stopped into our local Office on their Motorcycle for Miracles Tour.  You can read more about the Motorcycle for Miracles Tour here, and also on their Facebook Page.  Bruce and his daughter Holly rode 9400 KM across Canada for 31 days in August and stopped at each of the 14 CMN hospitals as well as the local Re/Max Offices to raise funds and awareness for the Children's Miracle Network of Hospitals.  They travelled with a Flag, and everyone was asked to sign it.
This is me, signing the Flag;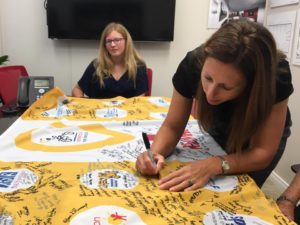 Bruce, his Wife Mary and Daughters Holly and Jocelyn have a deep connection to the Children's Miracle Network through their experience at Toronto's Hospital for Sick Children.
Their daughter Alyssa Rae died in the neonatal intensive care unit in 1998 at just 20 days old.  Holly was also a patient there, as was Jocelyn.   As they shared their story with the Agents at our Office, I remembered my earlier desire to get involved.
Many of the Agents at our Office are extensively involved in the Re/Max Miracle Home Program, which has raised, through our Canadian Agents alone, nearly 60 million dollars since 1992.
I can now proudly say that I am a Miracle Agent.  Moving forward, a portion of the commission from every house that I sell, whether working with Buyers or Sellers, will be donated to the Children's Miracle Network through the Miracle Home Program.
I am beyond filled with gratitude to be a part of this program, and I am looking forward to selling many Miracle Homes in 2017!