For the week of February 13th to the 17th, the Thunder Bay Real Estate Market definitely saw another increase in activity!  This warm weather is not just melting the snow, it's HEATING THINGS UP!  
This week's real estate market snapshot in review for the week of 02 13 2017 to 02 17 2017 looks something like this;
28 new residential listings (3 of which already have conditional offers in place), 2 commercial listings and 3 new lease opportunities (5 listings in total more than last week)

18 residential properties sold firm, ranging in price from $90,000 to $499,900, 2 successfully negotiated leases, 1 multifamily and also 1 vacant land listing, sold firm

23 conditionally accepted offers on residential properties (4 more than last week)

4 expired listings and 1 cancelled
Currently, in the month of February, there are;
280 currently active residential listings, with an average list price of $340,938 and an average DOM of 96 (not excluding outliers)
67 newly listed or re listed residential properties, 46 of which have sold firm with an average DOM of 50 (not excluding outliers)
with an average list price of $263,523
and an average sale price of $255,302

96.88% of asking
Here is this week's updated graph depicting the increase in sale price to list price ratio- not quite as sharp an increase as last week;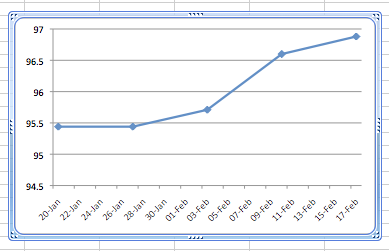 I hope that everyone is enjoying a beautiful Family Day weekend here in Thunder Bay!  The weather is absolutely fantastic, and the open houses have been very busy!
Sellers, if you are having a difficult time dealing with all of the muck being tracked in during viewings and open houses, you might find this Blog Post helpful; "A Handy Tip for Winter Sellers".
I hope that all of the Buyers out there are enjoying getting out to viewings in this spring like weather, and I KNOW that it is also a great long weekend for listing houses; I can't wait to see all of the new listings come Tuesday!
Happy Family Day weekend!  Enjoy!