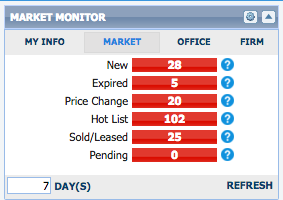 For the week of February 20th to 24th 2017, the Real Estate Market here in Thunder Bay remained fairly stagnant, and activity was lower than anticipated.  The nice warm weather of last week has left us in a bit of a deep freeze again, and the shortened 4 day work week due to the Family Day holiday has definitely had an impact, with potential Buyers and Sellers focused on an extended long weekend or just on staying warm.
This week's real estate market snapshot in review for the week of 02 20 2017 to 02 24 2017 looks something like this;
22 new residential listings ( a big departure from last weeks 28 new residential listings), 1 vacant land listing, 1 new multifamily listing, and 4 ICI/ commercial listings
25 residential listings sold FIRM, as opposed to only 18 last week, ranging in price from $52,600 to $660,000 
17 conditionally accepted offers on residential properties (6 less than last week)
5 expired listings
Currently, in the month of February, there are;
279 active residential listings, with an average list price of $342,129 and an average DOM of 96, including outliers

95 newly listed or re listed residential properties, 71 of which have sold firm with an average DOM of 49, including outliers

with an average list price of $263,128 
and an average sale price of $255,801
%97.22 of asking
Here is this week's updated graph depicting the increase in sale price to list price ratio: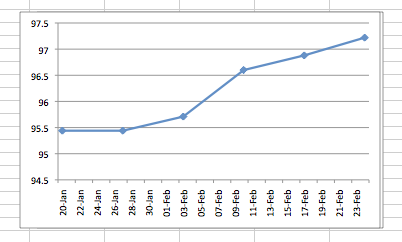 As you can see, properties are beginning to sell closer and closer to full asking as we move away from the December/ January slower period towards Spring.  That said, proper pricing is critically important right now, with even slightly overpriced properties tending to sit with little to no action.  This past week alone, there were 19 negative price adjustments on residential properties to bring them more in line with market expectations.
You can read more about the perils of overpricing a home in my Blog Post Listing Price:  Ask for More, Get Less, which outlines the critical role of proper pricing in a successful marketing strategy.