Last Friday I had a chance to enjoy lunch and a coffee at UpShot Coffeehouse.  Upshot is usually my afternoon go-to, mostly because I absolutely LOVE the soup and it is also just a short drive down the street from my Office.
This Friday, I had the Coconut Curry Lime Lentil Soup and it was soooo good!  All of the soups are fresh and home made, and they have a variety of ready to go snacks and lunches available as well.
I love the atmosphere at UpShot.  It's a great spot to hang out and chat quietly with friends, or an excellent choice if you need to sit and get a bit of work done- there are lots of quiet little nooks to tuck yourself into with a nice cup of coffee and your laptop.  Speaking of the coffee, it is locally roasted and superb.
One of the things that makes Upshot unique is their very cool latte selection- they offer a different 'feature latte' every week.  I have seen choices ranging from Persian Latte to a Muddy Dublin Latte, White Chocolate Cherry Pistachio Latte to Gingerbread Cookie Latte- YUM.
Speaking of yum- they have quite a selection of treats.  My Favourite is the 'Brookie'!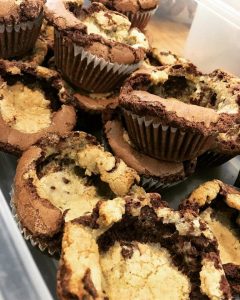 Looks good doesn't it?!  It's a cross between and Cookie and a Brownie!
UpShot Coffee is located at 111 1/2 May St. South and is Open from Monday to Friday 7:30 AM – 5:00 PM.