Bay Village Coffee- "The happy little shop at the corner of Bay and Water Street"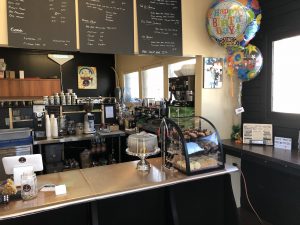 I chose to write about Bay Village Coffee first in this series of 5 local coffee shop reviews, as it is my regular go to for an amazing cup of coffee.  It's right on the way to my Office, and I really enjoy starting the 'working' part of my day with a visit to this super friendly and upbeat coffee shop.
The owners, staff and customers are always in a contagiously positive state of being.  I LOVE it.
Early in the morning, you will find freshly baked in house muffins, pastries, cookies and cakes.  I usually grab a muffin- they are fluffy and not too sweet, just right with fresh fruit and interesting combinations.  The skor shortbread is absolutely AMAZING and is a definite indulgence.
Here I am (or at least my lap top is) with this mornings 'treat'- a freshly baked pear muffin!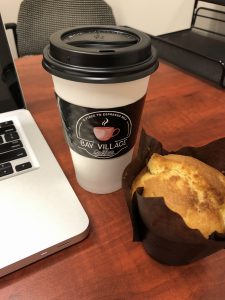 It *paired* lovely with a beautiful cup of Loonsong Tea by Boreal Forest Tea, which smells and tastes as beautifully as its name suggests.
Monday's are for Vegan lovers- and while I am not vegan, I can guarantee that anyone would love Shannon's amazing vegan offerings.  One morning I picked up freshly baked vegan cinnamon buns and dropped them off to by Husbands workplace- they were a big hit!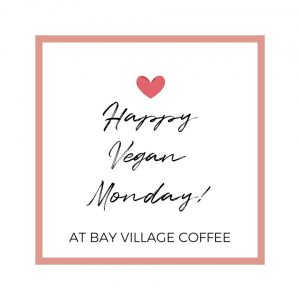 The coffee is local and is from Rose N Crantz Roasting Company – whose motto is superb;
"Love the Coffee you Drink, and Drink the Coffee you Love"
Pretty cool eh?
If you pop by in the afternoon, you can grab a bowl of home made soup and a variety of healthy sandwiches.  I recommend the 'El Camino', on it's own it's quite filling and paired with a bowl of soup you will be 'well nourished' for a while!
Bay Village Coffee also offers catering- I snagged this picture off of their Facebook Page to show you just how gorgeous their Charcuterie Boards are-
Amazing no?
If you are looking for a fabulous cup of coffee, a fresh baked treat, a fun place to hang out and have lunch or a dessert, I would definitely suggest popping over to Bay Village Coffee.  You will not be disappointed!
Bay Village Coffee is open from Monday to Friday from 7:00 AM to 5:00 PM and then on Saturdays from 8:00 AM to 4:00 PM.  There is plenty of parking, and plenty of cozy inside space to enjoy a bit of time inside.  They are located at 221 Bay Street in the trendy Bay/ Algoma area.